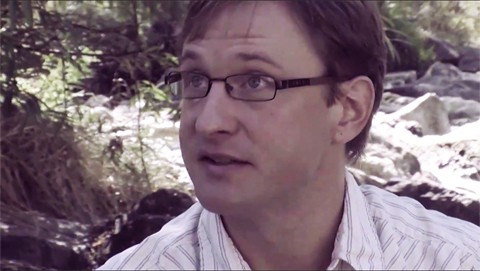 Nathan Manske and Marquise Lee just finished a 4 month, 50 state tour of the United States collecting stories for their I'm From Driftwood site. We'll be sharing some of the stories they collected along with some of the insight into what they saw. They're still encouraging people to submit their written stories via IFD.

We met Jason Marsden, the Executive Director of The Matthew Shepard Foundation, at our stop in Denver where the Foundation is headquartered. We were going to Laramie right after Denver so speaking with him was a bit of preparation. I didn't know exactly how to approach Laramie — should we actively seek out Matthew Shepard stories or not? — but after hearing Jason talk more about Matthew's life than of his death, I decided to follow suit and not focus on the tragedy but let people speak about him as they chose.
Watch, AFTER THE JUMP...
Recently in this series...
Alan Cumming Discusses Childhood Crush on Elton John, Media's 'Coming Out' Obsession [tr]
A Repressed Memory of a Traumatic Gym Class and an Abusive Father [tr]
Mormon Church Excommunicates Young Man, Forcing Him to Come Out [tr]
Gay Love Story in Bible Leads to New Belief System [tr]
From Cancer Diagnosis to Fairytale Wedding [tr]