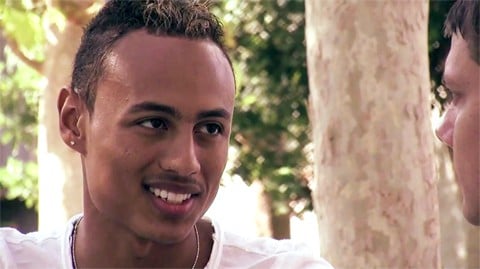 Nathan Manske and Marquise Lee embarked on a 4 month, 50 state tour of the United States collecting stories for their I'm From Driftwood site. We'll be sharing some of the stories they collected along with some of the insight into what they saw. They're still encouraging people to submit their written stories via IFD.

We met Nathaniel at the University of Nevada in Las Vegas. We showed up to speak to some LGBT students and it just so happened there was a huge political rally on campus. This was days before the 2010 midterm elections and Nevada Senator Harry Reid was meeting with and speaking to students. After the rally was finished, we walked over to some tables and through smiles and a happy demeanor, Nate shared his somber story about his father's and grandmother's reactions toward his sexuality.
Watch, AFTER THE JUMP...
Recently in this series...
Mixed Race Gay Couple Faces Challenges and Triumphs from Within Family [tr]
Peter Paige Remembers His Perfect Kiss with Apollo [tr]
Wasilla Teen's Coming Out Results in Slashed Tires [tr]
Journalist Wants People to Remember Matthew Shepard's Life [tr]
Alan Cumming Discusses Childhood Crush on Elton John, Media's 'Coming Out' Obsession [tr]