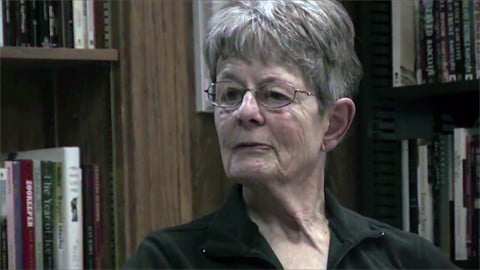 Nathan Manske and Marquise Lee embarked on a 4 month, 50 state tour of the United States collecting stories for their I'm From Driftwood site. We'll be sharing some of the stories they collected along with some of the insight into what they saw. They're still encouraging people to submit their written stories via IFD.

We met Sandy in upstate New York at the SAGE offices. SAGE stands for Services and Advocacy for GLBT Elders, and I was glad to get some stories from folks who were a bit older than most others on IFD. Things are changing so quickly in terms of LGBT acceptance, it's nice to be reminded of what life was like in another time.
Watch, AFTER THE JUMP...
Recently in this series...
Gay Teen's Father Says Discussion with Bullies Put End to Harassment [tr]
Gay Wasilla Teen Met with Religious Fanatics at School, Support at Home [tr]
Lexington Mayor Jim Gray on Coming Out to the Media [tr]
Reflecting on a Father's Pride, a Grandmother's Fears [tr]
Mixed Race Gay Couple Faces Challenges and Triumphs from Within Family [tr]