Charles Barkley on gay players in the NBA: "First of all, every player has played with gay guys. It bothers me when I hear these reporters and jocks get on TV and say: 'Oh, no guy can come out in a team sport. These guys would go crazy.' First of all, quit telling me what I think. I'd rather have a gay guy who can play than a straight guy who can't play."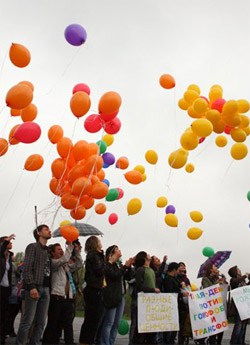 First sanctioned mass action of LGBT community takes place in St. Petersburg, Russia. Gays hold IDAHO march in repressive Minsk, Belarus.

Would you get your man parts pejazzled?

Michelangelo Signorile rips GOProud, Chris Barron in Advocate commentary.

Obama authorizes sale of "Made in the USA" birth certificate T-shirts.

Amazon rainforest deforestation rises sharply: "New satellite images show deforestation has increased from 103 sq km in March and April 2010 to 593 sq km (229 sq miles) in the same period of 2011, Brazil's space research institute says."

The Washington Blade speaks to Nick Espinosa, the activist who gave Newt Gingrich the glitter makeover.

WATCH: Preview for Good Christian Belles featuring Kristen Chenoweth, which looks like a sort of Designing Women/Mean Girls hybrid.

Tim Kaine: Gay couples should be allowed to adopt. Virginia advocacy groups ask for more time: "A coalition of groups, including gay-rights advocates, wants the Virginia Board of Social Services to allow more public comment on whether the state should bar private adoption agencies from discriminating against prospective parents based on sexual orientation. "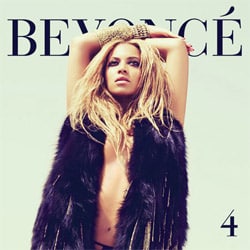 Beyoncé reveals album cover.

Rhode Island House Speaker Gordon Fox under fire for compromise on marriage equality vote. "These folks were looking for a champion," Fox, a Providence Democrat. It hurts me to think that I'm not quite their champion at this point. That bothers me. Because so many people were waiting for so long … but you have to be able to move votes."

David Boies and Ted Olson discuss status of Prop 8 challenge: "There is, legal experts say, a distinct possibility the Court could determine that there is no one qualified to defend the state's interests in arguing that Prop 8 should not have been struck down. Both the governor and the attorney general have refused to do so. If that's the case, then Walker's overturn becomes de facto law. That would be a victory for gay rights advocates, but a narrow one. While it would likely allow for same-sex marriage in California, it would not address marriage in other states."

Fortune profiles the rise of Bethenny Frankel.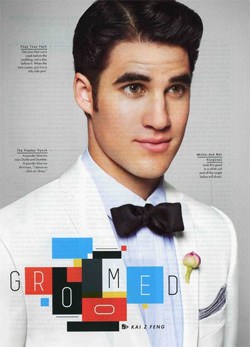 Darren Criss groomed up for GQ.
Gay couple in hiding in Pakistan after court order: "A Pakistani court has directed police to act in accordance with law on an application seeking action against two gay men for entering into a marriage against Islamic laws."

FOX News removes extremely transphobic story on Chaz Bono. Text: "I am not judging Ms. Bono. But there is nothing substantially different from a woman believing she is a man than there is about a woman believing she is a CIA agent being followed by the KGB (when in reality, she is, say, a salesperson at J. Crew)."

Judge rules Covington, Kentucky attack was an anti-gay hate crime.

Bear Grylls will just have a sip of his own pee whenever.

Exhibit on gay sailors to open in Halifax, Nova Scotia: "Men cavorting around in brightly coloured feather boas and stilettos wasn't an unusual sight. Some would borrow jewellery and shoes from female passengers. There were light-hearted drag shows and nighttime performances of musical theatre. Gay sailors even had their own secret language they could use to communicate with each other around straight men."