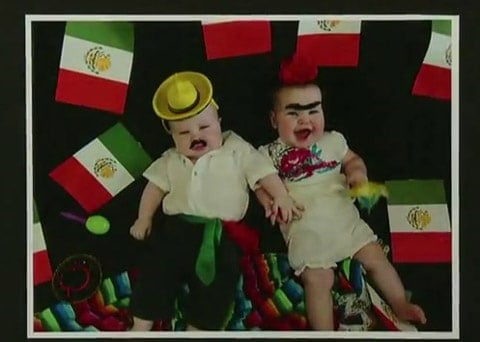 On The Late Show last night, Neil Patrick Harris showed off three photos of his twins Gideon and Harper which are part of a calendar he and David Burtka are putting together. The image above is their May photo (Cinco de Mayo). He also showed off March and April.
Watch, AFTER THE JUMP...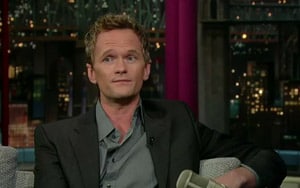 Kevin Sessums also posts an interview with Harris in The Daily Beast in which he talks about the twins, hosting award shows, Stephen Sondheim, James Franco, vareity shows, and living his life openly.
Says Harris:
As far as my own coming out as a gay man, I just looked on it as an inevitability.  I am a relatively transparent person so once I fell in love with David and we were living together I wasn't about to create a false construct and force us to live within it, which would make me claim to be someone I am not. I could not live a lie and would not ask him to live one. And I never looked on it as the big end-of-my-career moment. I did think there might be more of a negative backlash than there was so I was glad to see there was as much support -- and quite frankly, as much indifference -- as there was. The only negative reaction really was, "Who really gives a shit?"
Harris will be hosting the Tony Awards this Sunday night.
Check out the Late Show appearance, AFTER THE JUMP...