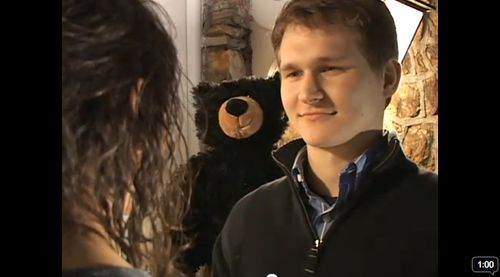 Maybe "Purity Bear" is an answer to the execrable "pedobear" meme that sprang up on the web's various chans in 2010. Maybe it's an original idea, sprung whole and entire from the virginal minds behind the The Day of Purity. What's known is this: "Purity Bear" will go to really creepy lengths to stop pre-marital sex; his exploits has been viewed a quarter of a million times on YouTube; and he's garnered almost 1,500 "Dislikes" to less than 200 "Likes" ... and in the halls of Liberty Counsel, where unpopularity's taken as a given, that counts as a smash success:
A short video promoting sexual purity hit a quarter of a million views today. People from more than 175 different countries and regions have watched the student-produced video that was designed to spark interest and start conversations promoting sexual purity.

... Amber Haskew, International Director for the Day of Purity, said: "I'm thrilled that the message of waiting for marriage is reaching so many people! We are excited to spark a conversation about the physical, emotional, physiological and even financial benefits of waiting for marriage. I encourage each family and individual to make your own declaration of purity. Take a stand this year and encourage those around you to make healthy decisions."
Watch Purity Bear in action AFTER THE JUMP ...