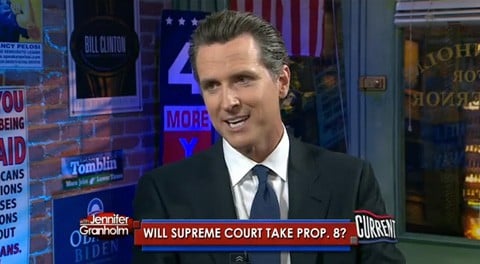 If you missed our legal expert Ari Ezra Waldman's excellent analysis of yesterday's Prop 8 ruling, you can read it HERE.
California Lt. Governor Gavin Newsom appeared on Jennifer Granholm's Current show last night to talk about the Prop 8 ruling and the chances the Supreme Court might hear the case.
While he acknowledged that "no president in history has done more to advance the rights of the gay and lesbian bisexual and trangender community than President Obama," Newsom said the President should "do the right thing" on marriage equality: "It's always the right time to do the right thing."
Watch, AFTER THE JUMP...