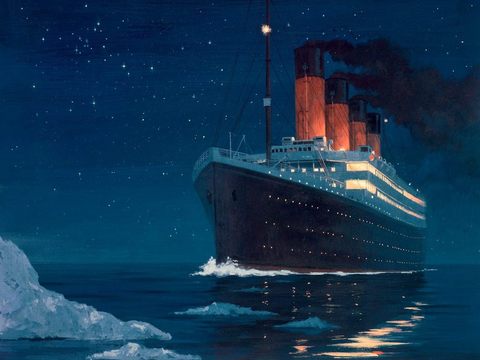 April 14th marks the 100th anniversary of the Titanic's fateful brush with an Atlantic iceberg.
As most of us know, 1,514 people died that day, and the world became forever enraptured with the doomed ship's tale. Rather than honoring the people who lost their lives that day, a group of anti-gay activists have produced a film in which they claim that LGBT equality is the United States' iceberg, and that without a conservative course correction, we're all doomed.

RightWingWatch offers the gory details:
The Truth that Transforms film features well-known anti-gay activists such as Jennifer Kennedy Cassidy and Jerry Newcombe of Truth in Action Ministries, Mathew Staver of Liberty Counsel, Richard Land of the Southern Baptist Convention's Ethics and Religious Liberty Commission, right-wing historian Bill Federer, radio talk show host and author Michael Brown, and pastors Harry Jackson, Robert Jeffress and Erwin Lutzer.

Staver warned that the "homosexual agenda is the moral iceberg that we need to steer clear of" and maintained that it is "the biggest threat I believe in our lifetime to religious freedom and the fundamental values we share here in America." While Jackson said the "homosexual agenda" is "one of those icebergs that if we don't navigate around them correctly, will take us under," Brown claimed "we've already hit the iceberg and the ship is already going down" and Land insisted that "we're taking on water, the only question is whether or not we're going to be able to survive and the ship won't sink."

Staver predicted that opposition to gay rights is bound to be "criminalized and targeted for assault" and Federer even asserted that "there are just a couple steps before the military could be used in a persecution of those that are viewed as enemies of the new state belief system."
Just when you thought social conservatives had hit the water mark for illogical, offensive and outright bizarre arguments, along comes a video like this. You can watch some snippets AFTER THE JUMP...