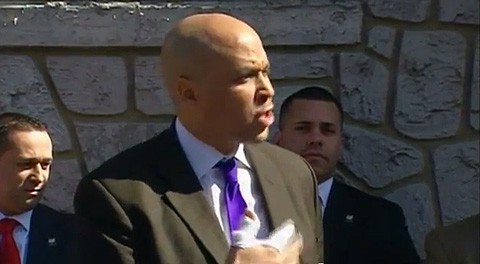 Newark, NJ Mayor Cory Booker, who last made an appearance here for his remarks condemning the treatment of gays as second-class citizens, spoke at a news conference this morning about his rescue of a neighbor from her burning house last night. Booker is being hailed as a hero for saving 47-year-old Zina Hodge, who was trapped in a bedroom.
The NYT:
The fire occurred in the mayor's Upper Clinton Hill neighborhood, as Mr. Booker was returning home from a television interview. The Fire Department had not yet arrived. He said a member of his security detail tried to restrain him, but the mayor responded, "If I don't go in, this lady's going to die."

After ushering others out of the house, the mayor and Detective Alex Rodriguez found the woman on the second floor. Mr. Booker said he picked up the woman, brought her through the burning kitchen and out to safety.

"When you're hearing someone calling for help and you see a room engulfed in flames, it's very, very terrifying," he said. "I had a conversation with God I've never had before," he said. "I want to kiss and hug a lot of people today."
Watch Booker speak about the rescue, AFTER THE JUMP...