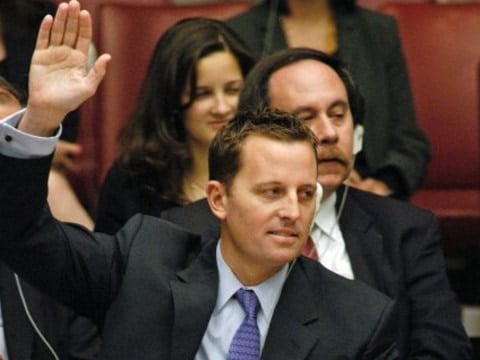 Mitt Romney spokesman Eric Fehrnstrom was asked about Richard Grenell's resignation last night on CNN and claimed he and his boss tried to persuade Grenell to stay on the team, despite social conservative pressure against him, and then bemoaned "intolerance."

"Wherever there are voices of intolerance within the party or the Democratic party for that matter, it doesn't matter where it's coming from, it's disappointing. And the governor has taken the opportunity in the past to denounce those voices of intolerance," Fehrnstrom told host Erin Burnett. "We do not take into consideration non-factors like race or ethnicity or sexual orientation [when hiring people]. We look for the best possible people to do the job."

Watch Fehrnstrom's remarks AFTER THE JUMP.
Meanwhile, the New York Times reports that Romney's campaign realized the Grenell controversy would complicate the candidate's bid to win over the religious right. "It's not that the campaign cared whether Ric Grenell was gay," a GOP adviser told the paper.. "They believed this was a nonissue. But they didn't want to confront the religious right." Courage under fire apparently is not one of Romney's strong suits.
Video via ThinkProgress: