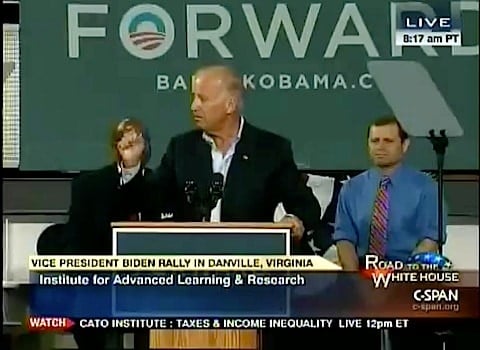 Here are clips of yesterday's remarks by Vice President Joe Biden on Romney and Republicans' economic plans.
Said the VP in Virginia:
"Look at what they [Republicans] value, and look at their budget. And look what they're proposing. [Romney] said in the first 100 days, he's going to let the big banks write their own rules — unchain Wall Street. They're going to put y'all back in chains."
The remarks are what inspired Romney to later call the Obama campaign "desperate" : "Mr. President, take your campaign of division and anger and hate back to Chicago."
(see earlier clip)
Romney spokesman Andrea Saul added:
"The comments made by the Vice President of the United States are not acceptable in our political discourse and demonstrate yet again that the Obama Campaign will say and do anything to win this election. President Obama should tell the American people whether he agrees with Joe Biden's comments."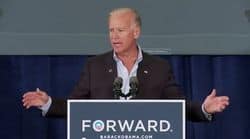 Biden later clarified his remarks:
"I am told when I made that comment earlier today in Danville, Va., the Romney campaign put out a Tweet …went on the air, went on the airwaves saying, 'Biden was outrageous in saying' — I think I said, instead of unshackled, unchained — 'outrageous to say that!...The last time these guys unshackled the economy, to use their term, they put the middle class in shackles. That's how we got where we are."
Watch, AFTER THE JUMP...
Later, a clarification: