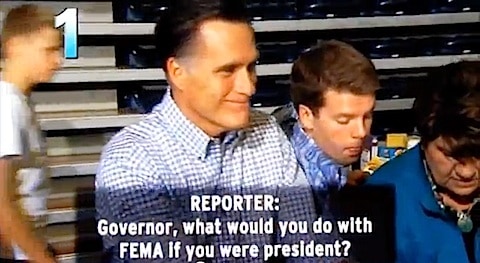 Last week I noted that back during the GOP primaries, the "severely conservative" version of Mitt Romney suggested that "it would be 'immoral' for the federal government to fund disaster relief efforts without cutting the budget elsewhere" and suggested shuttering FEMA and sending responsibility for disaster relief back to the private sector.

Yesterday, during his Hurricane Sandy canned goods photo op, Romney avoided questions from reporters about what he would do with FEMA on eleven separate occasions.
Watch Rachel Maddow count them out, AFTER THE JUMP...