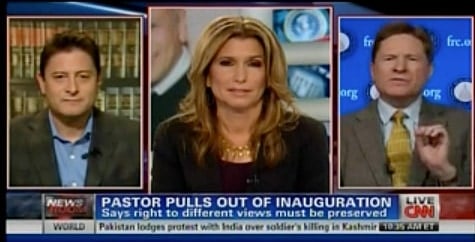 CNN anchor Carol Costello, last seen on Towleroad hanging up on AFA hate group leader Bryan Fischer, sides with Truth Wins Out's Wayne Besen after he suggests it's odd that Family Research Council's Peter Sprigg is denouncing intolerance in the wake of the Giglio dismissal, considering Sprigg has called for the imprisonment and deportation of gays from the United States.
Interjects Costello, popping on to the screen: "Wait a minute. Wayne is right about that Peter."
Watch, AFTER THE JUMP...