Fantasia Barrino talks to Starpulse, in hopefully the last chapter of her recent Instagram kerfuffle: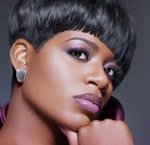 First of all, my words were taken out of context! After being personally attacked on my Instagram account, I was simply trying to respond and say we live in a world where things are becoming more acceptable…thank God! I was using gay marriage as an example of other matters by trying to say that people are becoming more accepting of gay marriage, of weed being legalized in some states etc. all as a comparison to the personal aspects of my life. However, my question really was 'Why are people still judging me?' It was not that I was trying to judge anyone. Anybody that knows anything about my history should know how I have been judged and talked about negatively from the first day that I hit the American Idol stage. However, I am not a judgmental person and never will be. I like to see people do what they enjoy and be with the person they enjoy being with. The LGBT community has been, and still are to date, my biggest supporters. Now...how you doin'?!
Wondering what she's been up to aside from ranting on social media? Her latest single, "Lose to Win", which samples The Commodores' "Night Shift", AFTER THE JUMP...