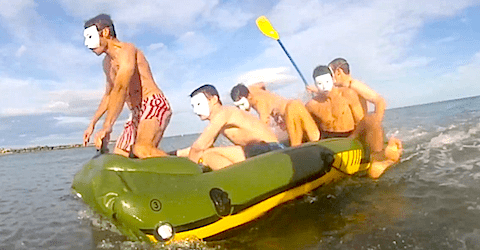 You may recognize the marriage equality protest group "Hommen" as the young men who parade around in public wearing white masks and words scrawled across their half-naked bodies. This time, they've taken to the beach in Montpellier, apparently to draw some sort of parallel to the D-Day invasion in Normandy. Except for the fact that there only appear to be five of them (six if you count the cameraman)...in a single inflatable raft.
The video, posted by the YouTube account "Tony Montpellier", begins by displaying a quote from Sun Tzu, which, roughly translated from French, means "the art of war is to subdue the enemy without fighting". It then shows footage of the young men "storming" the beach, accompanied by an epic orchestral score, before unfurling a banner that reads "Free Nicolas" and lighting a few flares. The "Nicolas" in question was an anti-gay protester, who caused a stir last month when he was arrested outside of a television studio and subsequently sent to jail. 
Watch the video, via Joe.My.God. (and try not to giggle) AFTER THE JUMP...