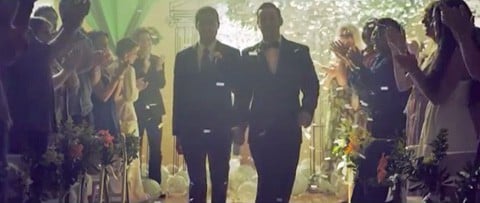 Macklemore's "Same Love" is flying up the music charts thanks to the Supreme Court ruling and "seems to have captured the nation's mood," the NYT reports:
On Wednesday, the same day the Supreme Court handed historic victories to same-sex couples in both cases, "Same Love" rose to No. 28 on the Billboard Hot 100 chart, up from No. 65 three weeks ago. On the strength of online streaming more than airplay, the song was No. 5 on the Rap Songs chart, where lyrics in support of gay rights are almost unheard of. Sales of the single surged 23 percent last week from the previous week to a total of more than 788,000 copies, and views of the single's video on YouTube had approached 53 million by Sunday.

Several radio programmers say surveys of listeners predict the song will continue to rise. "It's been phenomenal," said Tom Poleman, the president for national programming at Clear Channel Media and Entertainment, which operates 850 stations. "Everything we are seeing shows it's going to be another monster hit for them."
Watch the video once more, AFTER THE JUMP...