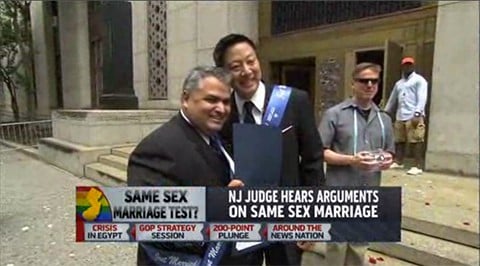 Yesterday we reported on the challenge to New Jersey's civil unions law that is being widely touted as the "first nationwide test" of the U.S. Supreme Court's DOMA ruling in United States v. Windsor. MSNBC's Tamron Hall spoke with Pete Williams about the case. Commenting on the potential implications of the New Jersey ruling once it's handed down, Williams said:
"In other states that have civil unions the same argument would apply. The state can't say that civil unions are just as good if people in civil unions can't get the full recognition of the federal government. But secondly you get to the core of the Supreme Court's holding in the DOMA case where they said that depriving same-sex couples of the recognition of marriage deprives them of their dignity, I think the ruling uses that, Anthony Kennedy's ruling uses that almost a dozen times."
Freedom To Marry's Marc Solomon also gets in on the coversation AFTER THE JUMP...
Visit NBCNews.com for breaking news, world news, and news about the economy