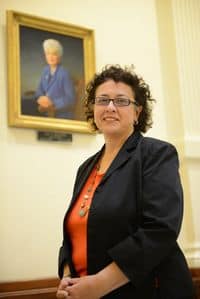 In a runoff election earlier this week for Texas House District 50, Democrat Celia Israel cruised to victory and subsequently became the state's second openly LGBT legislator currently in office. Lone Star Q reports: 
"Sometimes behind a great woman there's another great woman," Israel said during her victory speech in a crowded ballroom at the Four Seasons hotel in downtown Austin. "Celinda Garza, I owe you so much, but thank you for your patience and for your love. They don't call it an 18-year relationship for nothing."
Israel handily defeated tea party Republican Mike VanDeWalle in the Texas House District 50 special election runoff. With 79 percent of precincts reporting, Israel had 59 percent to VanDeWalle's 41 percent.
Israel will join openly LGBT state Rep. Mary Gonzalez, D-El Paso who was elected back in 2012. 
Watch Israel's victory speech, AFTER THE JUMP...