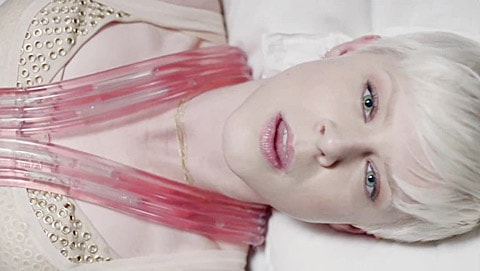 The phrase "gay icon" gets tossed around a lot, but what does that really mean? Welcome to Gay Iconography, a feature where we present a proposed iconic figure or character and then ask you to weigh in with your thoughts. 
There's been a few recurring themes that have emerged in these discussions around what makes gay icons: talent, relatability and time, among them. Time is a particularly interesting factor. Icons aren't necessarily legends, but it's hard to sneak recent figures in among stars like Cher and Judy Garland. Still, there are some contemporary names that have continued to pop up in the comments.
Take Robyn, for instance. The Swedish dance-pop star is beloved by many in the gay community for her other-worldly sense of style, high-energy live shows and pristine pop jams. She's frequently cited as a gay icon for younger generations, and has become a staple in gay bars and clubs. With a career that only really took off in 2005 (though she'd been around in some capacity since the '90s), is it too soon to call her an icon?
Rock out with your Body Talk out and share your take, AFTER THE JUMP …
Robyn first gained notoriety in the U.S. in the late '90s as a teen pop star. You may remember her singles "Do You Really Want Me" and "Show Me Love" (which she performed on the teen sketch show All That in 1997, above).
She took a turn for the avant-garde after parting with her label in 2004. On her newly formed Konichiwa Records, Robyn was liberated to pursue a more electro-pop sound, resulting in her excellent self-titled album. The shift further embedded Robyn in club culture, which she would later tell Metro Weekly brought her closer to the gay community. "I think the gay community has always gravitated towards music that has been a part of or a reference to club culture. That's where gay culture has developed and shaped itself," she said.
Robyn followed that album up with, not one, but three short, superb albums. The Body Talk anthology showcased her strongest work yet, and some of the best pop music so far this century. It included the near-perfect track "Dancing On My Own," which was described as "a song inspired by her love of inherently sad, gay disco anthems."
Like many gay icons, Robyn's look is almost as essential as her music. Her striking features are all the more accennuated by her signature short, blonde hair. She's often described as androgynous, and her wardrobe looks like what one would find in a thrift store in outer space. She was mistaken for a boy growing up, she told Out magazine in 2011: "Having that experience where I was confronted by people's reactions to what I looked like or what I was supposed to look like made me identify with queerness. It still happens to me all the time, and a lot of the time it happens to me in America because even though what I consider butch is still very feminine in Europe, here you can shock people very easily just by looking a little queer." Even her dance moves are unique. (I'd like to see Britney pull off that backward somersault.)
In addition to featuring a lesbian couple in her steamy video for "Indestructible," above, Robyn is very thoughtful about her gay audience. She shares her gratitude for her gay fans in many interviews, and has attributed her connections to the gay community to her own feelings of being an outsider. She told Entertainment Weekly: "… it's really important for me to recognize my gay following in a less stereotypical way than when you're this blonde female, like, icon pop star or whatever, because there are so many parts of gay culture that usually do not get recognized." 
She may not consider herself a "blonde female, like, icon pop star," but do you consider her a gay icon? Tell us why in the comments.