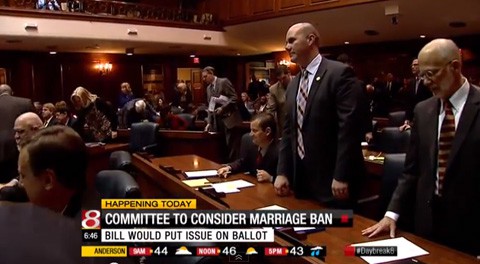 As we reported last week, Indiana's House Judiciary Committee is set to consider two measures, an amendment constitutionally banning same-sex marriage, and a resolution related to it.
The Indy Star reports: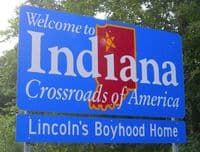 The committee also will be considering a companion bill intended to clarify the amendment's intent. That measure states that the amendment is not intended to deny employer health benefits to same-sex couples or to circumvent local ordinances that forbid discrimination.

Supporters are hoping the companion bill will help reassure lawmakers who are concerned about the amendment's second sentence, which also bans civil unions or other arrangements "substantially similar" to marriage.

The committee's four Democrats are expected to vote against the amendment, but three Republicans would have to join them to defeat it. Most observers say that's unlikely.

Still, three GOP lawmakers – Reps. Daniel Leonard of Huntington, Wendy McNamara of Mount Vernon, and Rep. Jerry Torr of Carmel – have said they're undecided.
Watch WISH-TV's preview of the marriage hearing, AFTER THE JUMP...
Opponents of same-sex marriage began running an ad campaign across the state. We previewed one of their ads over the weekend and you can watch it HERE.