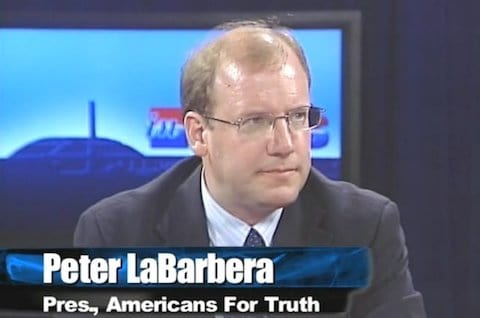 Anti-gay activist Peter LaBarbera seldom has any clue what he's talking about - something we have documented at great length - but a recent interview with Alan Colmes LaBarbera revealed a new level of how clueless he is. After hitting the tired bigoted talking points of how gay couples are unfit to raise children because it would normalize perversion, Colmes asked him how he would plan to ban homosexuality and punish violators. Rather unexpectedly, LaBarbera didn't know how to respond. He tried avoiding Colmes' inquiry, but was eventually pressed into admitting:
"I don't know what the punishment [for homosexuality] should be."
Mildly shocking given that in Jamaica, where he recently proselytized to keep anti-gay laws on the books, homosexuality can earn a jail sentence of up to ten years. Colmes then took him to task, which you can hear in the interview below.
Listen, AFTER THE JUMP...