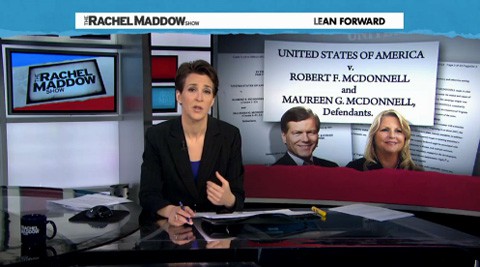 Late yesterday, former Virginia Governor Bob McDonnell and his wife were charged in federal corruption probe, the WaPo reported: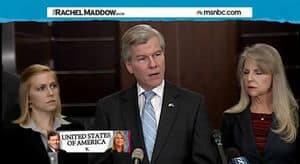 Former Virginia governor Robert F. McDonnell and his wife, Maureen, were charged Tuesday with illegally accepting gifts, luxury vacations and large loans from a wealthy Richmond area businessman who sought special treatment from state government.

Authorities allege that for nearly two years, the McDonnells repeatedly asked executive Jonnie R. Williams Sr. for loans and gifts of money, clothes, golf fees and equipment, trips, and private plane rides. The gifts and loans totaled at least $165,000.
In exchange, authorities allege, the McDonnells worked in concert to lend the prestige of the governor's office to Williams's struggling company, Star Scientific, a former small cigarette manufacturer that now sells dietary supplements.
The couple faces a maximum 14-count indictment that could send the couple to prison for decades.
Rachel Maddow tracks how it all went down, AFTER THE JUMP...
Ugly, ugly stuff.