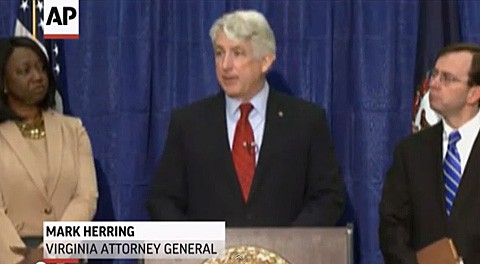 The National Organization for Marriage issued a spitting mad press release yesterday urging the impeachment of Virginia Attorney General Mark Herring after Herring announced that the state's ban on gay marriage is unconstitutional and he would refuse to defend it in court.
Watch Herring's announcement, AFTER THE JUMP...
From NOM: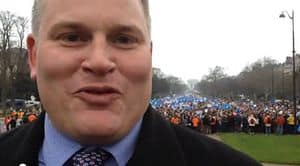 "The Attorney General swore an oath that he would 'support...the Constitution of the Commonwealth of Virginia' and faithfully discharge his duties, which include defending duly enacted laws like the state's marriage amendment," said Brian Brown, NOM's president. "Yet now Attorney General Herring is participating in a lawsuit against the very people he is sworn to represent, the citizens of Virginia who preserved marriage in their constitution. This malfeasance and neglect of duty is not only a disgrace, it's an impeachable offense under the constitution."
Section 17 of the Virginia state constitution provides that the Attorney General may be impeached for "malfeasance in office, corruption, neglect of duty or other high crime or misdemeanor."
Attorney General Herring announced today that not only would he abandon the defense of Virginia's marriage amendment, he would be filing a brief in federal court advocating the redefinition of marriage against the express decision of the voters of the commonwealth, who in 2006 voted overwhelmingly to amend their state constitution to define marriage as the union of one man and one woman.

Professor John Eastman, Chairman of NOM's Board of Directors and a highly-regarded constitutional law expert called Herring's decision "lawless." He said, "The attorney general's decision to advocate against the state's marriage law is an egregious violation of his duty. Here you don't merely have the attorney general abandoning the defense of the law and remaining neutral - a decision which itself would be based on very dubious grounds. No, this goes further: Herring is staying involved in the case, and advocating directly for the side opposed to the interests of his clients, the people of Virginia. Any other lawyer pulling that kind of nonsense would be disbarred."
Watch Herring's announcement, AFTER THE JUMP...