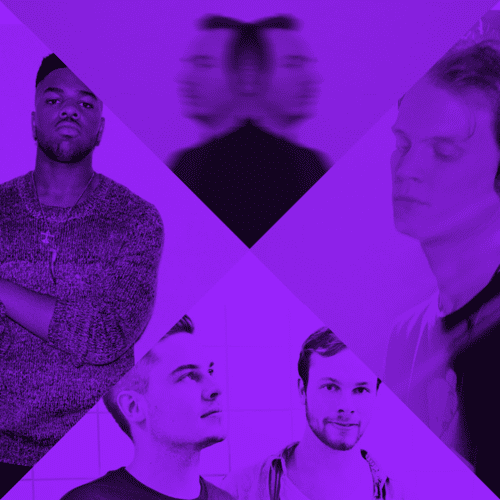 BY OCCUPY THE DISCO / RU BHATT
The OXD Mirror is a weekly music column brought to you by the boys of OCCUPY THE DISCO (OXD), a New York City based collective created by three music lovers, Ru Bhatt, Josh Appelbaum, and Tad Haes, who want to share their love for disco, house and dance music with the world.   We're trying out some new formats to keep this column fresh, so stay tuned over the next few weeks as we fine tune!
There's no doubt that nostalgia is very "in" these days. Whether it be in television, films, or even "throwback thursdays" it seems like everyone is reminiscing about the "good old days," and reissuing our childhood memories with an added millenial gloss. This revisiting of the past is also very apparent on today's music. With pop acts like Beyoncé sampling more of a '90s R&B vibe, and dance acts like Disclosure harkening back to early UK Garage music, updating yesterday's sound for a new era is de riguer by today's cultural phenomenons.
We saw the trend first begin to emerge in 2012 with the French Express enclave taking '90s R&B hits and giving them a tropical feel. Now, producers are becoming even more experimental and are using the audience's familiarity with the original track as an anchor that leads them through their new, updated productions. This strategy works very well for unknown artists as it's a great way to have audiences become instantly familiar with their track and want to seek out other, original music that has the same production value. The playlist below features some artists that are certain to make it big in 2014 through using this tactic successfully.
Have a listen, and check out my notes on each track AFTER THE JUMP. ..
 Learn more about these tracks, and listen to an extended mixtape AFTER THE JUMP... 
In 2012 he gave us 'The Giver,' in 2013, 'Need U (100%),' (which won a Grammy nomination) and now, in 2014, Duke Dumont changes his sound completely with 'I Got U.' This track, which samples Whitney Houston's 'My Love is Your Love' is the second single off of Dumont's forthcoming debut album. If his previous efforts are any indication, this man's Midas touch will have you dancing all year long.
While the end of 2013 was all about the impact of Beyoncé, 2014 brings us back to a more innocent time in Ms. Knowles' career, courtesy of the Copenhagen-based brothers known as Borneland. The duo's first official release is a remix of Destiny's Child's 'Bug A Boo' which takes the hilarious original track and gives it a disco-funk groove that's a sure way to make people step up and notice. 
The blogosphere is already buzzing about MNEK being the artist to watch in 2014 and his 'refix' of the classic pop anthem, 'Never Leave You' makes it all the more clear that the buzz is warranted. The Grammy nominated (along with co-producer Duke Dumont) singer/songwriter/producer removes the dated 'Diwali riddim' of the infectious original and really gives his vocal and production chops a chance to shine. The wunderkind's album drops later this year and it seems the entire music industry is rightfully waiting with bated breath.
HNNY follows up to 'Boy' and 'Exactly' with 'No,' a song that updates TLC's 'No Scrubs' for a new era. The production is lush, deep, and dreamy, just as we've come to expect from the Swedish maestro. 
While the late Peter Rauhofer's mashup of Mariah Carey's 2006 comeback single and Fragma's 'Toca's Miracle' will always be the definitive 'We Belong Together' remix, the relatively unknown artist known as Saint Pepsi has put together an inspired remix that updates the original yeta gain. The production harkens back to '90s house blended with elements of disco, which thanks to our nostalgic tendencies seems to sound very current. 
Mixtape of the week: Atjazz DJ Mix
Atjazz Record Company just released this mix to celebrate 50,000 followers on Facebook. This uplifting mix includes elements of deep house, African rhythms, and soulful vocals that combine to create a "feel good" vibe. Best of all, the mix is available as a free download, so you can enjoy it all weekend long. 
OCCUPY THE DISCO (OXD) curates and recommends music events to the gay community in NYC—in an effort to move the focus of the nightlife scene beyond the promoter and venue and to the music itself. OXD's goal is to educate, entertain, engage and empower the gay audience to reclaim their ability to question and experience the unknown. The OXD Mirror will serve to showcase tunes that are definitely off-the-beaten-path but rightfully deserve the attention of the gay ear.
This week's post was written and curated by Ru Bhatt. Check out more of his music picks on his podcast, The Ru-Mix and on Made In Brazil.

Be sure to check out these tracks and more on our Spotify Playlist. For more information on OXD, check out our website and accompanying blog at www.occupythedisco.com, like us on Facebook, or follow us on Twitter: @OccupyTheDisco.