The UK will boost aid to Nigeria this year despite the signing of an anti-gay law by President Goodluck Jonathan which is leading to 'witch hunts', trials, lashings, and likely worse for people suspected of being gay across the African nation.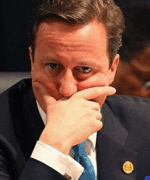 The Mail Online reports:
David Cameron warned last year the UK would review its massive aid programme if the country pressed ahead with legislation that includes a ten-year jail sentence for gay men holding hands in public.
But the Department for International Development, under pressure to meet targets on aid spending, said last night the West African state would not lose a penny despite a decision by President Goodluck Jonathan to sign off the law this week.
A spokesman added that aid to Nigeria would be increased as planned, from £200million last year to almost £270million.
Since Nigeria's law has gone into effect 38 people have reportedly been arrested — 11 in the northern Islamic Bauchi state where homosexuality carries a death sentence, and at least 24 in three southern states, according to Dorothy Aken'ova, the executive director of the International Centre for Reproductive Health and Sexual Rights.