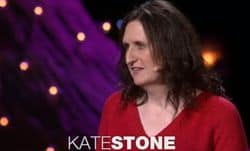 A freak animal encounter has left Kate Stone, a Cambridge research engineer and owner of U.K. tech company Novalia, in critical condition. Stone was attacked by a deer outside of a home in a small Scotland town, and sustained major damage to both her spinal column and throat. Doctors reported that Stone was in "serious and stable condition" as of January 1st. 
Gary Burton, owner of the Mo-Dhachaidh Guest House where Stone was staying, told the Press and Journal: "I understand Kate is critical in the hospital's intensive care unit.She was telling me she enjoyed the outdoors in the hills and camping on her own in remote places so any form of paralysis to such an active person will be a disaster. The incident is absolutely shocking and so unexpected. There are plenty of deer around here but you never hear of a stag attacking anyone. The force of the attack must have been ferocious. I went to the scene and found Kate's mobile phone smashed into tiny bits."
An official from Scotland's version of Fish and Game told the Telegraph that this type of deer attack is "highly unusual – a chance in a million."
The buck was reportedly found in the guest house's garden, and it may have felt cornered by Stone and her group of friends. Still, the nature of the incident is disturbing and odd, to say the least. Our thoughts are with Stone as she recovers.
Be sure and check out a TED Talk video in which Stone discusses her research, AFTER THE JUMP...