The most popular talking point repeated by anti-LGBT conservatives who oppose marriage equality (among other civil rights) is that it will erode "religious freedom" by forcing places of worship to hold same-sex wedding ceremonies.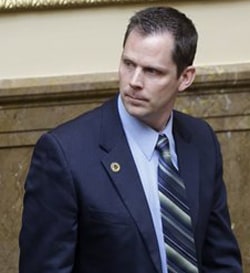 Republican Utah State Representative Jacob Anderegg (pictured) has introduced state constitutional amendment HR1 which explicitly says churches will never be forced to participate in a same-sex marriages.
From the Salt Lake Tribune:
[Anderegg said,] "The truth is, the main reason I'm proposing this is that I just want people to relax. If they know they have their federal religious guarantees in writing, I hope they will just relax."
Even Sen. Jim Dabakis, D-Salt Lake City, who is gay and was married after the ban was struck down, does not oppose the idea. "I don't think anybody wants to be married by somebody that doesn't want to marry them," he said, adding it could help end worries and fighting.
However, Dabakis says he would support the amendment only if it were changed to require a civil marriage first for everyone, followed by a possible religious ceremony to help make clear that "civil marriage is a constitutional right."
As it stands, the proposed amendment reads:
"This resolution proposes to amend the Utah Constitution to: prevent a religious organization, association, or society, or individual acting in a role connected with a religious organization, association, or society, from being required or compelled to solemnize, officiate in, or recognize a marriage or religious rite of marriage in violation of their right of conscience or their free exercise of religion."
Continue reading AFTER THE JUMP...
As written, it would exempt church-affliated businesses from having to publicly accommodate same-sex couples for any part of their nuptials — including photo shoots of their engagement or the reception after the wedding.
Anderegg says that he began working on amendment more than a year ago and that Utah's recent legalization of marriage equality hastened its introduction into the legislature. If approved, Utahan citizens would vote on the amendment during the next general election.
The amendment may face dubious prospects however in light of the state attorney general's pledge to "spend whatever it takes" to defend Utah's anti-gay amendment.