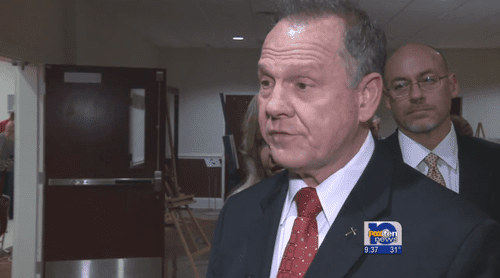 Alabama Chief Justice Roy Moore, who last week launched a personal campaign to the governors in every state to pass a federal constitutional amendment banning gay marriage, is making the media rounds to help spread word about his crusade.
Right Wing Watch reports that Moore, who believes that marriage equality is a Satanic influence that will lead to "oppressive" government and divine punishment, told wingnut rag WorldNetDaily yesterday that the legalization of same-sex marriage threatens the Constitution:
"It's a travesty," Judge Roy Moore told WND on Monday about the move toward judiciary-imposed same-sex "marriages." "The courts are exercising wrongful authority over this country."

He said it was no less than the U.S. Supreme Court itself which, in an earlier ruling, said, "We come nearest to illegitimacy when we deal with judge-made constitutional law with no cognizable roots in the design of the Constitution." [...]

"If marriage falls," he said, "the institution of family upon which it is based falls."

Then, he said, "We no longer have a Constitution. We have a government of individual men who have the power to decide what the Constitution means … ."
Last week, Moore used a speech to the Alabama Cattlemen's Association to rally support for his campaign. Check out a local news report of the story, AFTER THE JUMP...