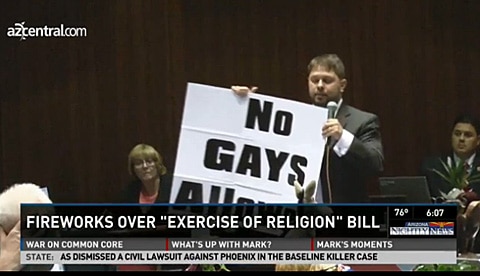 Arizona Governor Jan Brewer has five days to sign House Bill 2153, the bill that allows businesses to discriminate against gays based on their religious beliefs. The bill passed the state House last night and the Senate earlier this week.
The Arizona Republic:
Specifically, the legislation proposes to:
-- Expand the state's definition of the exercise of religion to include both the practice and observance of religion.
-- Allow someone to assert a legal claim of free exercise of religion regardless of whether the government is a party to the proceedings.
-- Expand those protected under the state's free-exercise-of-religion law to "any individual, association, partnership, corporation, church, religious assembly or institution or other business organization."
-- Establish wording that says that in order to assert a free-exercise-of-religion defense, the individual, business or church must establish that its action is motivated by a religious belief, that the belief is sincerely held and that the belief is substantially burdened.
Proponents say the bill would, for example, protect a wedding photographer who declined to take photos of a same-sex couple's commitment ceremony due to the photographer's religious beliefs. "We are trying to protect people's religious liberties," said Rep. Steve Montenegro, R-Litchfield Park. "We don't want the government coming in and forcing somebody to act against their religious sacred faith beliefs or having to sell out if you are a small-business owner."
Brewer has generally sided with groups such as the Center for Arizona Policy, which supports the legislation on the grounds that it keeps people from having to act against their religious beliefs.

But foes hope to convince business groups, which have so far stayed out of the fray, to convince the governor that having Arizona be the first — and potentially only — state to adopt this law is bad for attracting business.

Gubernatorial press aide Andrew Wilder would not comment, saying only that his boss will review it when she returns from Washington, D.C., where she is attending the National Governors Association conference.
Watch an AZCentral report on the bill, AFTER THE JUMP...