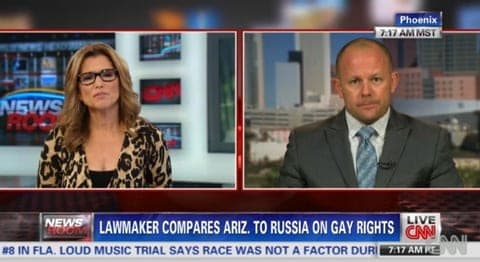 Arizona Rep. Chad Campbell (D-AZ) appeared on CNN this afternoon to denounce the bill awaiting signature from Governor Jan Brewer that would legalize discrimination against gays.
Said Campbell:
"If we were having this conversation in reagard to African-Americans or women there would be outrage across the country about this but right now htis is targeted toward the gay community and the far right views this as okay and that is simply not acceptable."
Watch, AFTER THE JUMP...
FYI you can call Brewer now  at (602) 542-4331 or (520) 628-6580 and urge her to veto the bill.
Suggested script: Hi, my name is __________ and I live in _____________. I'm calling to urge Governor Brewer to veto SB1062. Arizonans believe in freedom for all -- and that includes our gay and lesbian neighbors. Please reject this harmful legislation.