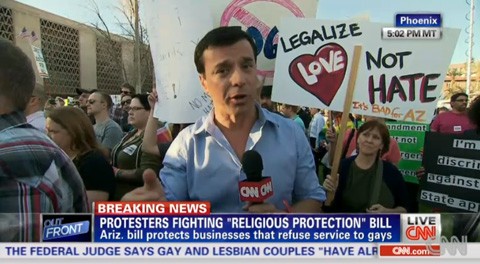 Major protests took place this evening in Phoenix and Tucson in opposition to the bill passed by the Arizona legislature that would allow businesses to discriminate against gays and lesbians based on religious beliefs.
CNN's AC360 led off their show live from the protests in Phoenix.
Watch, AFTER THE JUMP...
Governor Jan Brewer must decide whether to sign or veto the legislation early next week.
The governor, who is attending a conference of national governors in the nation's capital, rarely comments on bills before they reach her desk.
She spoke with CNN on Friday: "Well, it's a very controversial piece of legislation. We know that. We know that it's failed in a lot of states across the country. ... I've been reading about it on the Internet and I will make my decision some time before ... by next Friday ... if I do decide to sign it. But it's very controversial, so I've got to get my hands around it."
The governor has five days to decide on the bill so it's likely she'll need to deal with it before Friday as she says.
FYI you can call Brewer now  at (602) 542-4331 or (520) 628-6580 and urge her to veto the bill.
Suggested script: Hi, my name is __________ and I live in _____________. I'm calling to urge Governor Brewer to veto SB1062. Arizonans believe in freedom for all -- and that includes our gay and lesbian neighbors. Please reject this harmful legislation.