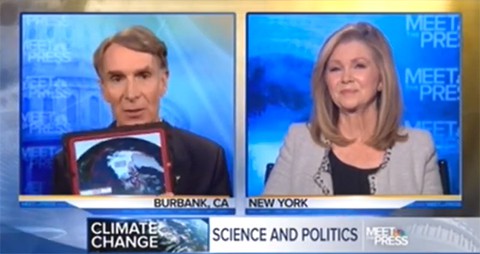 This Sunday on Meet the Press, Bill Nye "The Science Guy" and Republican Congresswoman Marsha Blackburn (TN) sat down with David Gregory to discuss the science of climate change and whether a correlation can be discerned between America's recent bouts of extreme weather and human created climate change. However, the conversation was stunted by Congresswoman Blackburn's apparent refusal to concede that climate change is real, man-made or possibly influencing weather events such as the Polar Vortex or the drought in California, as Time points out:
"Neither [Bill Nye] nor I are a climate scientist. He is an engineer and actor, I am a member of Congress. And what we have to do is look at the information that we get from climate scientists," said Blackburn. "There is not agreement around the fact of exactly what is causing this."
Nye was less than receptive to the congresswoman's introduction of "doubt" into the equation:
"We have overwhelming evidence that the climate is changing. That you cannot tie any one event to that is not the same as doubt about the whole thing," said Nye. "There is no debate in the scientific community. I encourage the Congresswoman to really look at the facts. You are our leader. We need you to change things, not deny what's happening...For me, as a guy who grew up in the U.S., I want the U.S. to lead the world in this," he said. "These are huge opportunities, and the more we mess around with this denial, the less we're going to get done."
Get schooled, AFTER THE JUMP...