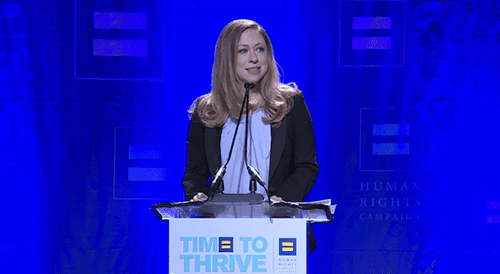 In a keynote speech given at a Human Rights Campaign conference over the weekend, Chelsea Clinton remarked on the "incredible progress" of gay rights in this country, while also highlighting the 'unfinished business' that must be addressed on the road to full equality. CNN reports:
"My mother has often said that the issue of women is the unfinished business of the 21st century," she said of Hillary Clinton, the former New York senator and secretary of state. "That is certainly true. But so too are the issues of LGBTQ rights the unfinished business of the 21st century." […]
In her address, Clinton pushed for more progress in combating bullying of gay youths. She pointed to celebrities such as Jason Collins, the NBA veteran who announced that he was gay in a Sports Illustrated story in April, and actress Ellen Page, who came out as gay at the same Las Vegas conference last Friday, as role models changing the lesbian, bisexual, gay, transgender, queer narrative.
"Changing laws and changing the political dialogue while necessary is insufficient to ensure that bullying stops; to ensure that every young person is supported by their parents and their teachers as they question who they are and they discover who they are regardless of the sexuality," Clinton said.
Watch the address, AFTER THE JUMP...