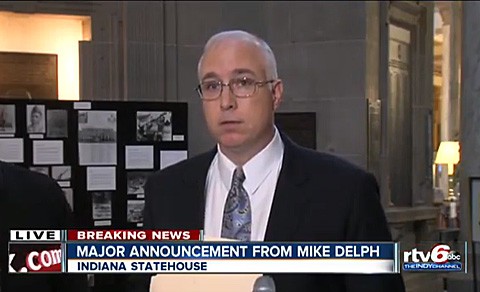 Indiana State Senator Mike Delph (R-Carmel), who had a meltdown on social media last week after the Senate failed to reinsert language that would get the state's gay marriage ban to voters this year, held a press conference on Monday morning:
Sen. Mike Delph, R-Carmel, said Monday that he wants to use a procedural move to try to put a ban on civil unions back into a state constitutional amendment against gay marriage—although he's not sure the votes are there to approve it.

In a press conference in the Statehouse rotunda Monday morning, Delph said he will vote against the measure if he's not successful in restoring the original language to the proposed amendment, which included a ban on civil unions. Without the language on civil unions, Delph said, the proposal does little if anything to legally protect traditional marriage.

"This is my preferred way to bring closure to this entire matter," Delph said. "Done in November 2014. Once and for all."
Watch the press conference, AFTER THE JUMP...
The Indiana Senate is preparing for a final vote on the measure. Because the House struck language that would have banned any legal relationship that is "identical or substantially similar" to marriage is restored (and then sent back to the House and reapproved this session), the Senate would have had to reinsert the language and have the House pass it again to have it sent to voters this year. They chose not to do so in a first vote last week.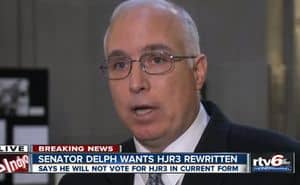 Delph's Twitter meltdown following last week's vote prompted reporters to question him about his behavior, the Indy Channel reports:
...a reporter asked Delph, "Had you been drinking or using drugs during your Twitter barrage?"

Delph did not take the question lightly.

"What kind of question is that? That is just asinine. I'd been drinking tea… and that's… are you trying to make news? That's an offensive, asinine question. And you know, that is indicative - that type of idiotic question is indicative of the public's frustration with the media, who is supposed to report news, not make news. So I'm not even going to respond to that anymore. That's ridiculous," Delph said. He then turned to the room for more questions, "Yeah -- anybody else?"

Crickets greeted the question.
And perhaps the weirdest thing about Delph's intensity interest in a gay marriage ban is the fact that he has a gay brother.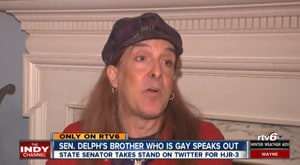 The Indy Star reports:
Stephen Delph said his brother has seen him win pageant titles in drag and has met his boyfriends. Once, Mike Delph even tried to set him up with a gay friend, Stephen said.
"During his swearing in, I'm down there with makeup and long hair and Ralph Lauren turtle neck, meeting everyone and he had no problem with that," Stephen said. "He knows I'm artistic and different and he has no problems with that at all....Never once has he called me evil or an abomination. He's never told me I'm un-Christian-like."
In fact, his younger brother stuck up for him after Stephen came out as a 13-year-old student in Carmel-Clay schools.
"He got in fights to defend me," Stephen said.
Watch the press conference and an interview with Senator Delph's brother Stephen, AFTER THE JUMP...