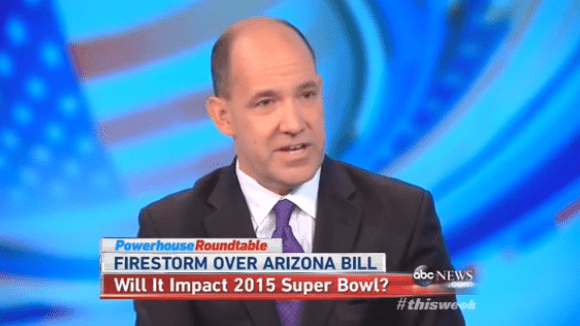 Matthew Dowd, the chief strategist for the 2004 Bush-Cheney presidential campaign expressing his opinion about SB 1062 saying ABC's This Week that the bill is too grounded in religion and that Governor Jan Brewer will veto it mainly due to the possible economic damage it could cause the state.
 "I think, in the end, Gov. Brewer is probably going to veto this because it seems like an easy veto for her to do because of everything that's going in the business economy there. This is one of those problems when people use religion as a way to sort of enforce discriminatory practices. People used religion back in the 1860s when they defended slavery. They used religion to defend slavery. We've used religion to go to war. People have criticized Islam because they use religion to fight people and kill people. This is the problem with that. In the end I think she vetoes it because there's no way this can survive. 
Watch the clip, via of The Raw Story, AFTER THE JUMP.