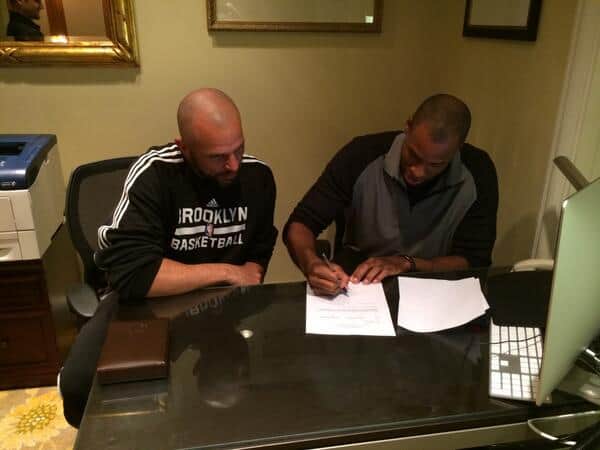 It's official. Jason Collins is the very first active, openly gay player not only in the NBA but also in any major US sport.
The Brooklyn Nets announced over Twitter that they have signed Collins to a 10-day contract. They also tweeted out a photo of the actual signing.
ESPN reports:
"The decision to sign Jason was a basketball decision," Nets general manager Billy King said in a statement. " We needed to increase our depth inside, and with his experience and size, we felt he was the right choice for a 10-day contract."

The Nets moved quickly to make the historic signing of the 35-year-old free agent center to have another big body available against the Lakers. Brooklyn had been contemplating signing Collins for the past week and the need for Collins became greater after the Nets dealt rebounding specialist Reggie Evans to the Sacramento Kings last week.
Both Michael Sam and Robbie Rogers sent their congratulations out to Collins.


There'll be no time wasted getting Collins on the court. He'll make his debut this with the Nets this evening in LA in a game against the Clippers.