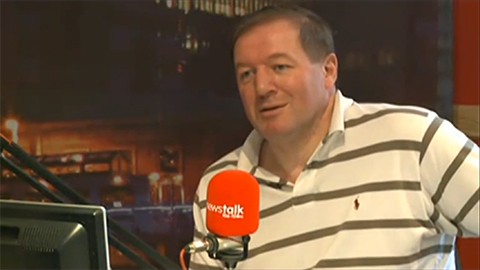 Former Irish Rugby star and sports commentator Neil Francis recently made comments about homosexuality and sports that have landed him in hot water. As RTE Sport reports, the remarks ensued during a round-table conversation on the radio show Off the Ball on Newstalk that began with a discussion of American football player Michael Sam's recent coming out. Referring to Sam, Francis said:
"This is a different coming-out than any other. I was in the States, and I was watching Missouri [Sam's college team] play, before they got to the Cotton Bowl, and I noticed this guy because he was very flamboyant, and y'know, a bit of a showman, and a very good player. No question about that.
"And I think it was Jimi Hendrix that said, ah, y'know, talking about Janis Joplin's death, y'know: 'Great career move'. So, is this - what is the motivation for coming out?"
After questioning Sam's motives for coming out, Francis then went on to insist that there are not that many gay men involved in sports and that gay men by and large have little interest in sports:
"You do a survey of the hair-dressing industry and find out how many heterosexuals work in that…Professional sport, by its very nature, doesn't promote, y'know, sort of, there are a wide range of people who are homosexual, and, that exact, the environment that they're in isn't something that they're interested in…What are their interests? I mean, If you've ever sat down with, y'know, homosexual people, and asked them what their interests are, very often they have no interest in any kind of sport. That's my experience from sitting down with them; I've done it on a regular basis."
 On how his views will be received, Francis added:
 "A lot of people would sort of say, well, y'know, y'know sort of what you've said really is stereotyping, but y'know, I don't care. I'm here. I'm gonna express an opinion."
Francis said he hadn't watched any of the Winter Olympics because he was "sick and tired of, y'know, sort of picking up, y'know angles on whether the Russians have an anti-gay policy or not. It's about the Olympics or not, and the side issue has just put me off."
Francis has since attempted to backpedal his derisive statements, according to The Telegraph:
"When I got home I had a listen to the interview again and it didn't sound like me at all – and a lot of people who listened to it said 'it's not your form'," he said on Today FM's 'The Last Word' programme yesterday.
"Some of the points I tried to make were very clumsily made and my language and the analogies I tried to make were quite poor and poorly expressed, and it's unusual for me not to be able to articulate myself. In this instance, I was unable to do so.
"Listening to what I said, on reflection, I probably said the wrong things and some of the things I said were extremely clumsy. On reflection, I would like to withdraw those comments and apologise profusely and unreservedly."
You can watch the original discussion in full, AFTER THE JUMP…