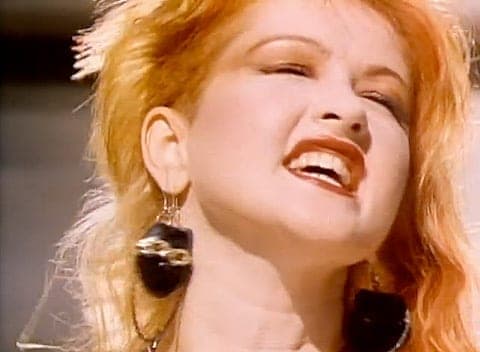 The phrase "gay icon" gets tossed around a lot, but why is it that some figures amass more of a gay audience? Welcome to Gay Iconography, a feature where we present a proposed iconic figure or character and then ask you to weigh in with your thoughts. 
In February 2013, Cyndi Lauper told the Huffington Post "One of my friends … she said 'Well, you should be a gay icon.' So then I did it, and I started to see discrepancies and things that weren't right, and I didn't want to just shut my mouth, because I don't believe in that."
She makes it sound so easy.
Among those considered to be gay icons, few embody as much of the grit, style and talent as Cyndi.
Her career spans more than four decades, earning her Grammy, Emmy and Tony Awards, (among others). With a four-octave range and perfect pitch, Lauper's unmistakable voice has graced some of the most memorable songs of the 20th century. Throughout her career, she's not only left an indelible mark on pop music with more than 40 singles, but she's been an incredibly vocal ally of the gay community.
"Your civil liberties are my civil liberties," she said in an About.com interview. "I have had many experiences and I'm lucky to have the platform that I do. I want to use it not only to make great music, but make change."
Inspired by her lesbian sister, Lauper has written several songs about gay issues, partnered with organizations like Human Rights Campaign, PFLAG and the Matthew Shepherd Foundation, and she's appeared at various pride events (including serving as Grand Marshall of the New York City Gay Pride Parade in 2012).
She has made her gay advocacy known on soap operas like As The World Turns and reality shows like MTV's Made.
She also started the True Colors Fund, which advocates for runaway and homeless LGBT youth, a cause she continually and tirelessly champions with campaigns like the Forty to None Project to educate the public and "Home for the Holidays" benefit concerts.
Celebrate Cyndi with some of our favorite clips, AFTER THE JUMP ...
Lauper was a superstar from the very beginning. Her debut solo album, She's So Unusual, spawned four top-five hits on the Billboard Hot 100, making it the first debut album from a female artist ever to do so. The lead single, "Girls Just Want To Have Fun," is one of the most memorable music videos of all time, but we also love this video of Lauper singing the song to a bunch of stranded passengers in an airport in Argentina.
She described herself to ChicagoPride.com, "I guess I'm just one of those 'straight' people that gets it. The commonality of all people is what inspires me. As Cyndi Lauper the artist, I connected because of my music and my visual aesthetic and I guess my 'outsider' vibe helped." She had less luck connecting with the Parents Music Resource Center. They placed her song "She Bop" on their "Filthy Fifteen" list. (Also on that list? Fellow gay icon Madonna, as well as Prince, who originally performed one of my personal favorite Lauper songs, "When You Were Mine.")
Her song "True Colors" has become an anthem for the gay community. In 2007, Lauper launched the True Colors Tour, featuring Erasure, Debbie Harry and others. In 2009, the tour was relaunched as a series of monthly cabaret performance featuring Jonathan Groff, Lea Michele and Rufus Wainwright.
One of Lauper's initiatives, The Forty To None Project, focuses on homeless LGBT youth. (The name references the fact that 40 percent of American homeless youth identify as LGBT.)
In addition to her music and philanthropy (not to mention her acting, including an Emmy Award-winning turn on Mad About You), Lauper took Broadway by storm in 2013. She composed the music for Tony Award-winning Best Musical Kinky Boots, and earned a Tony herself for Best Original Score, making her the first solo female to ever win this category.
What's your favorite Cyndi Lauper moment? Share it in the comments.