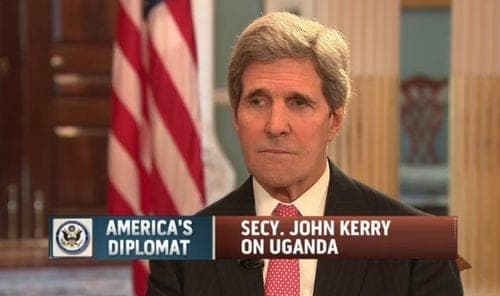 Andrea Mitchell sat down with Secretary of State John Kerry on Wednesday to discuss the anti-gay bills recently passed in both Arizona and Uganda, as well as briefly mentioning Russia's anti-gay propaganda laws. Though the laws' implications vary widely and are incomparable in most ways, Kerry used the opportunity to speak out vehemently against discrimination of all kinds, and to assure viewers, and the LGBT community, that the American government would be working hard to make strides in the arena of global human rights. He said, "We will stand up for people's rights."
He also asserted his belief that the Arizona law would be overturned by Governor Jan Brewer: "I cannot imagine that that law would withstand the scrutiny of the Supreme Court of the United States, so I would hope that she will make the right decision." Luckily, she did. Still, many battles remain and it is good to hear Kerry speak up in a time like this.
Check out the video, AFTER THE JUMP...
Yesterday, Kerry told reporters that he was launching a new effort to combat a worldwide threat to human rights, spurred by anti-gay activity in Uganda and elsewhere, the AP reports:
"You could change the focus of this legislation to black or Jewish, and you could be in 1930s Germany, or you could be in 1950s or '60s apartheid South Africa," Kerry told reporters during a 55-minute question-and-answer session at the State Department. "It was wrong there, egregiously, in both places, and it is wrong here."
He said the issue would be a major focus of discussion when U.S. ambassadors from across the world return to Washington for meetings in the weeks ahead.