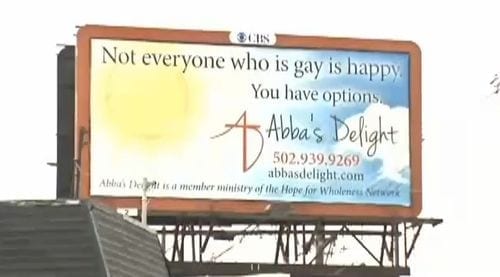 A billboard in Louisville, Kentucky is causing controversy because of its anti-gay message. The billboard reads: "Not everyone who is gay is happy. You have options." Sponsored by Abba's Delight, a faith-based organization which helps people "who are uncomfortable with their same-sex attractions," the billboard suggests that gay conversion therapy is possible.
My Fox Orlando reports:
The founder of the group that created the Billboard, Daniel Mingo, denies that the ad targets homosexuality. "This specifically targets people who have same-sex attractions that are unwanted," said Mingo.
Mingo maintains that the billboard is not aimed at people whose same-sex attractions bring them happiness, but his tone is tinged with moralism. Mingo's own experience found him "[walking] away from homosexuality" based on his faith.
Chris Hartman, the director of the Fairness Campaign, is outraged by the advertisement and believes that it targets the gay community with anti-gay propaganda.
"To suggest that this organization is going to help someone is an exact obfuscation of the truth, it's the opposite; they're going to harm 90 percent of the people that walk in and out of their door," said Hartman. "An organization like this really needs to be shut down."
Watch the news coverage, AFTER THE JUMP...