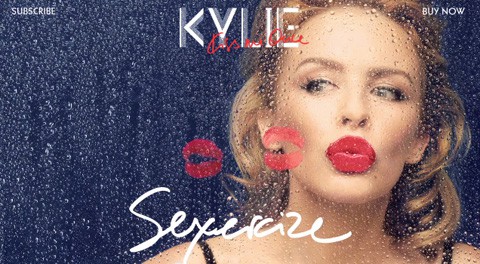 Kylie Minogue has released an 11-track sampler of her upcoming album Kiss Me Once. The title track was produced by Sia, who executive produced the entire album.
Watch and listen, AFTER THE JUMP...
Said Kylie of the upcoming album:
"The sound essentially retains my DNA, and what a Kylie song is, but I think that gives me room to manoeuvre because you have something like Can't Get You Out Of My Head, to Slow, to I Believe in You to I Should Be So Lucky - it's still within the pop/dance arena. But what it has done has for me most importantly, is injected a freshness and a vitality into doing what is basically what I've always done - I needed to have a fresh approach and Roc Nation has helped me do that."
Into The Blue 00:00
Million Miles 00:50
I Was Gonna Cancel 01:45
Sexy Love 02:39
Sexercise 03:28
Feels So Good 04:16
If Only 05:05
Les Sex 05:55
Kiss Me Once 06:47
Beautiful 07:40
Fine 08:23