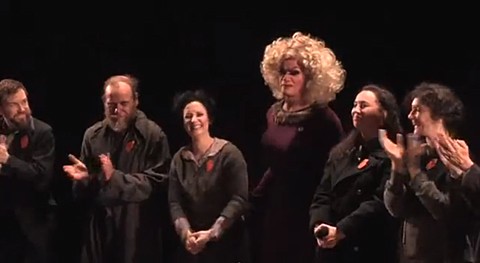 On Saturday night, Rory O'Neill, also known as drag queen and activist Panti Bliss, took the stage after a performance of James Plunkett's 1913 Lockout drama The Risen People in the national theatre, and gave an impassioned speech on homophobia that is making headlines across Ireland.
Our tipster Hugh F. explains:
Last night, on the Abbey Theatre stage, the national theatre of Ireland, Ms. Panti Bliss (Rory O'Neill), Ireland's most celebrated drag queen and gay rights activist made an impassioned speech about the oppression of homophobia. Appearing as Rory O'Neill a few weeks earlier on the Saturday Night show, he called out a number of public figures who he deemed homophobic because of their active campaigning to treat homosexuals differently. Those people threatened legal action against O'Neill and RTÉ (the national broadcaster) and a large sum of money was paid out in settlement. Ms. Panti Bliss took to the stage of the national theatre to set the record "straight".
Watch Panti Bliss's speech, AFTER THE JUMP...