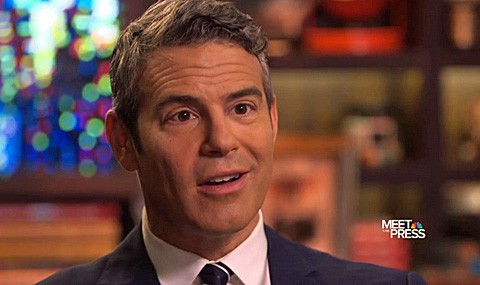 'Meet the Press' correspondent Harry Smith sat down with Bravo's Andy Cohen and figure skater Brian Boitano to talk about Russia, its anti-gay laws, and the Olympics.
Cohen commented on his decision to turn down a hosting gig at the Miss Universe pageant late last year:
"It seemed very disingenuous of me to go to Russia and do a travelogue about what a great time the pageant queens had in Moscow - what a wonderful city - when I could be stoned in a square for throwing out a gay flag."
Boitano is putting a lot of faith in the International Olympic Committee given the way it blew off concerns this year from LGBT activists and groups concerned about the anti-gay law.
Said Boitano:
"I truly believe the IOC will never again choose a country to have the Olympics in that doesn't have a good human rights record, or a country that is not tolerant."
Watch, AFTER THE JUMP...