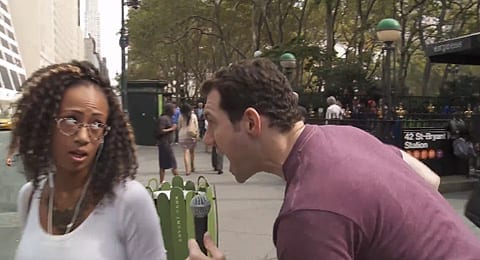 Gay comic Billy Eichner is back with a new season of Billy on the Street next Wednesday.
Check out his Season 3 premiere 'lightning round', AFTER THE JUMP...
Eichner gets a nice profile in this Sunday's NYT:
"I was a fat, gay Jewish kid, but I was always confident," he said. "Maybe because I had a good singing voice." He starred in school musicals, appeared as an extra on "Saturday Night Live" and soaked up everything show business. His bar mitzvah party had giant cutout photos of Madonna and the Phantom of the Opera. He has turned his obsession with fame into his own kind of minor celebrity...
..."No one can do what he does," said Joan Rivers, an early champion. "The only comparison is the first season of Ali G." She added that a difference is that Mr. Eichner mixes sweetness with his insanity. "If you yell at an old lady for not knowing who Debra Messing is, no one gets hurt. She can still go shopping."