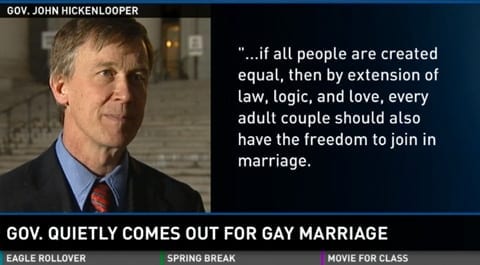 Colorado Governor John Hickenlooper came out for marriage equality on Monday in a statement coinciding with a new equality campaign in the state, 9News reports:
In juxtaposition to Hickenlooper's support for civil unions, which he prominently announced as a legislative priority in his 2012 State of the State address, Hickenlooper's first public comment as Governor in support of same-sex marriage came in the form of a written statement toward the bottom of a press release from LGBT group One Colorado announcing the new legalization effort:
Governor John Hickenlooper: "We have advocated for equal rights for all Coloradans and we will continue to advocate for equal rights for all Coloradans. Last year, Colorado took a historic step forward when we passed bipartisan legislation recognizing civil unions. If all men and women truly have the inalienable right to pursue happiness, and if all people are created equal, then by extension of law, logic, and love, every adult couple should also have the freedom to join in marriage."
Up till now, Hickenlooper has expressed his views that gay couples should have the same legal rights as straight couple, but has not explicitly mentioned marriage.
Conservatives are angry at Hickenlooper for not making a public statement and hiding his 'coming out' in a press release.
Watch the 9News report, AFTER THE JUMP...