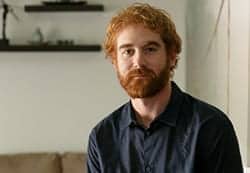 For nine seasons, the romantic sitcom How I Met Your Mother featured openly gay actor Neil Patrick Harris playing a straight womanizer and only one recurring gay character — a gay black dude played by straight actor Wayne Brady.
But the show's spinoff How I Met Your Dad is apparently looking to change that trend. In February the show announced that actor Drew Tarver will play the female lead's gay best friend. And apparently that gay best friend will also be married to the female lead's brother, a role that will be played by hunky bearded ginger Andrew Santino. The series is set to premiere in the fall.
Santino is a comedian who currently plays on the ABC series Mixology but has also appeared in Netflix's Arrested Development and NBC's The Office. You can see a video of him doing a comedy routine on his father's prejudice against gay Californians after the jump.
Watch the video AFTER THE JUMP...