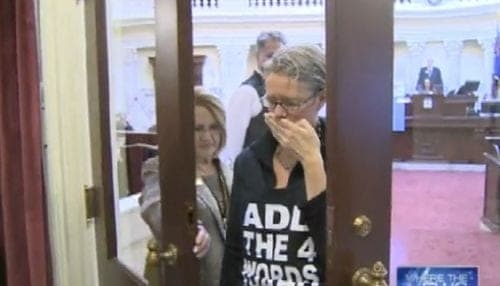 Over twenty LGBT rights activists sporting "Add the Words Idaho" t-shirts and covering their mouths with their hands were arrested for blocking all four entrances to Idaho governor C.L. "Butch" Otter's office today. The protestors, who have held demonstrations at the statehouse several times in the past month, want officials to add the terms "gender identity" and "sexual orientation" to Idaho's human rights act.
KTVB.com reports:
Police arrested 18 protesters for unlawful assembly, four protesers for trespassing, and one protester for resisting and obstructing, according to Idaho State Police.
That includes former Idaho State Senator Nicole LeFavour (above), who was led from the building in handcuffs. LeFavour was encouraging protesters not to move from the various entrances to the governor's office...
Idaho Republicans have blocked passage of the "Add the Words" proposal for eight years, and they have declined to give such a plan a hearing this year.
Watch news coverage of the protest, AFTER THE JUMP...