Richard Scott Kennedy, a British student at University of Central Lancaster, was reportedly attacked in an anti-gay hate crime last week. He posted a photo and his story on Facebook: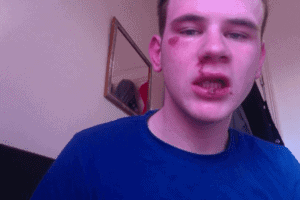 Here is my face after a homophobic attack, 4 of my teeth are gone, not fallen out but deep inside my gums and cheek, one is sitting under my cheek inside my gum on the right side bottom of my nose. My face is swollen and it was worse yesterday, both my knees are badly injured and I struggle to walk and my hole face is constantly throbbing and i'm now on 4 tablets a day for pain and infection and may require surgery to sort the damage.
All of this and what was their motive? because of my f–king sexuality. something that doesn't concern ANYONE else minus me and the person I fall for, either man or woman. A sex life is private and has nothing to do with no one, needless to say it's absolutely disgraceful to violently attack someone because of who they are. My confidence has gone, im utterly embarrassed to be seen in public, the only reason I am putting this picture up is because I want you to see me as an example. An example why homophobia is wrong and it's disgusting that it's still around in 2014. Society needs to get a grip, people are who they are, people are different, people are gay, straight, bi, transexual, black, white, asian, fat, skinny, small and tall but regardless of who they are and what they look like they are still human. There is more to people than their sexual preference and what they look like. 
This is just another homophobic attack that happens every day, but it needs to stop, this is wrong, this is disgusting and using sexual preference as a motive to be violent and abusive is utter inhumane.
Richard's post has been shared more than 176,000 times since he posted it on February 26.