A Missouri state representative has filed a proposal that would reverse the state's 2004 constitutional amendment defining marriage as between a man and a woman, Missourinet reports: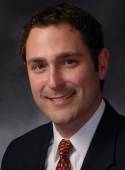 Representative Mike Colona (D-St. Louis), who is gay, says that he is introducing the bill because the time is right for the General Assembly to address this issue again.
Colona points to the Missouri Supreme Court case last year regarding survivor benefits for Missouri State Troopers and Governor Jay Nixon's vocal support for gay rights as signs that his state is ready to take the next step towards LGBT equality. 
"My thoughts are," says Colona "ten years after the passage of that marriage ban, we very well could have a much different outcome."
Voters approved the 2004 ban 71%-29%.
Watch Rep. Colona discuss his bill's introduction, AFTER THE JUMP…
And in other news, more than 300 Missouri-based companies are now voicing their support for the passage of the Missouri Nondiscrimination Act (MONA) which would add sexual orientation and gender identity to the state's Human Rights Statute.