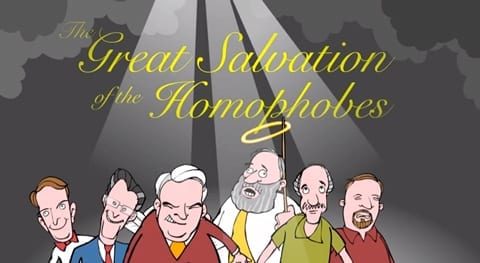 Political cartoonist Mark Fiore calls out anti-gay hatemongers Bryan Fischer, Scott Lively, Tony Perkins and Rick Warren for playing ignorant after encouraging Uganda to pass its horrendous law which penalizes LGBT people with life imprisonment. 
Fiore writes:
"Since Uganda's anti-gay law was signed recently, it's been amusing (and maddening) to watch various religious right characters scurry for cover. When nobody was watching, the holier-than-thou set have been visiting Uganda preaching their extreme anti-gay views. Now that people are appalled at Uganda's life-in-prison-for-homosexuals law, the "evangelical" right-wing preachers are laying low or rewriting history."
And if you enjoy this video, you'll love Fiore's takes on Arizona's discrimination license, Republicans love gay marriage and straights who have been injured by gay marriage.
Watch the video AFTER THE JUMP...